ONGOING VOYAGE, FROM JESOLO TO CORFU

ONBOARD JOURNAL NO.1: TRADITIONS, TRADITIONS
There are several well-established customs, both belonging to seafarers' as well as family's traditions, that characterize the beginning of our cruises, no exception accepted!
So, in no particular order:
- Delay at the start due to slow progress of the boat's preparatory works: CHECK
- Further delay because, when the boat was finally ready, a long spell of bad weather established itself: CHECK
- Additional, small delay to perform last-minute purchases of food and beverages: CHECK (no matter how early these purchases had been started...)
- Finally, a HALF DAY to disengage water and electricity from the quay and to replace all permanent moorings with quick-release double lines and we are ready to cast-off: let go at the bow, let go at the stern, engine slow ahead, WE ARE UNDERWAYI!!
...but WAIT, we are not finished with the list of traditional bad luck events! For example, we are still missing the...

- BREAKAGE immediately after the departure! No way! This time it's the fault of the autopilot, which was working just few days ago and now refuses to give any sign of life!
Turn around then, and go back to our mooring we left just one hour ago!
We work on the pilot, and all of a sudden it resumes working, without us having done anything to justify the "repair". For me, it's just a matter of traditions, we always have a breakage during the cruise, so it was kind enough to happen at the start when we were still near shore!
Oh, of course this last delay did have a consequence: in the meantime, the wind dropped completely so we had to motor merrily in the rough direction of Ancona and, if Neptune keeps looking the other way, we may then continue further down the italian coastline towards Vieste or the Tremiti islands.
Good that we changed course towards Vieste as this way we remain farther from shore and avoid the worse of a sudden thunderstorm with a lot of LIGHTNING discharging on the Conero mount, just south of Ancona.
Next morning, all weather forecasts predict for today the same weather that we had yesterday, and in view of the fact that all western Mediterranean is enjoying winds from force-7 upwards, it's an easy call to predict that come tomorrow, the weather is going to worsen also in the Adriatic!
We definitely need to reach a shelter by tomorrow morning, and the logical choice is Vieste, at the tip of the Gargano promontory.
We reach the Tremiti islands by nightfall, and in order to avoid arriving in Vieste during the night we decide to stop for a few hours, precariously (VERY precariously!) moored to a solitary buoy in front of the San Domino island. Next morning, in few hours we arrive in Vieste and are soon moored.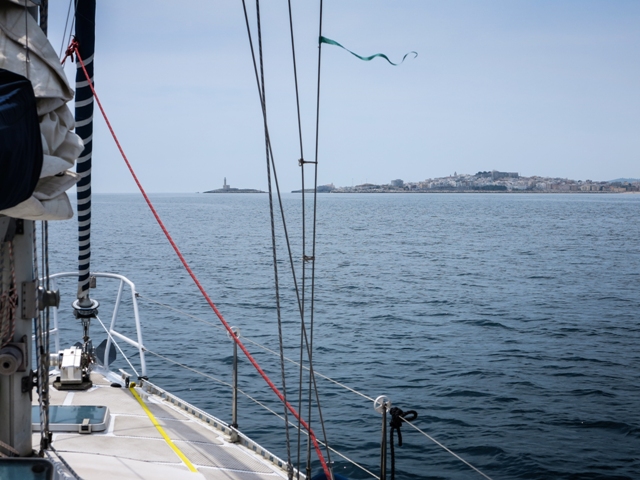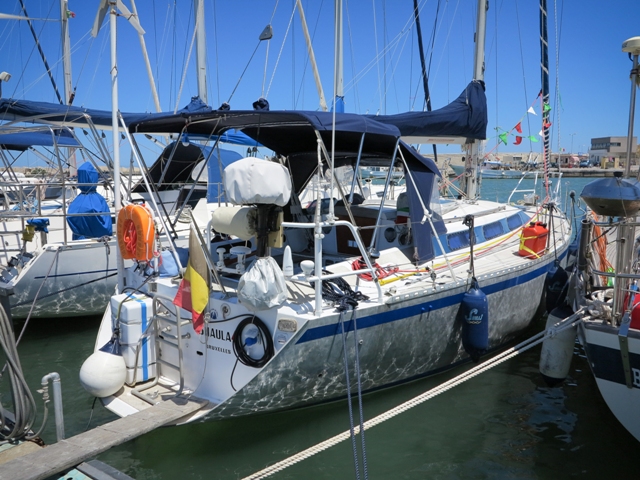 Next night, for a change, the forecasted bad weather comes for real, and therefore the next day is spent doing nothing, with the wind howling through the boats' masts.
But another rendezvous with bad luck was lurking, in line with onboard traditions: BABY HURTS HERSELF, this time tripping on a stairs and straining a tendon she hurt last winter!
There now, isn't it about time we reach the next phase of our cruising traditions, like: WHEN WE HAVE FUN!?

ONBOARD JOURNAL NO. 2: RESTING IN VIESTE
Vieste is a nice and welcoming town at the tip of the Gargano peninsula. Due to its position, one must necessarily pass in front of it when sailing in the north/south direction, as it happens with Ancona further north or Brindisi to the south.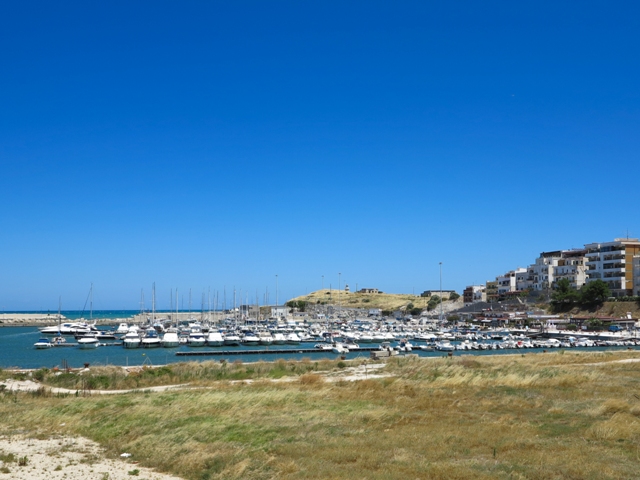 The Adriatic is full of ports, but all the others require some degree of deviation from the straight course, while these 3 are closer and typically we get in front of them after 2 or even 3 nights at sea, and therefore:
- we are tired
- the fresh-food stores are nearly finished (time to do some shopping)
- the nice weather which is lasting since our start is about to get worse (well, not always, but it's often like that!)
Result: time to stop! ...and considering these are welcoming places, we are always reluctant to leave afterwards!
Today we are exactly like that: we could leave heading south, but there's still is a bit too much wind, which would be a good thing if not for the waves!

ONBOARD JOURNAL NO.3: IN THE MIDDLE OF THE SEA...
So, we were at the "to leave, or not to leave" dilemma; almost needless to say, the "stay" option prevailed, helped by the sight of the white crests out of the port's walls!...
But next morning there were no excuses, light wind, sun, favourable weather forecast (even the Croatian forecast, usually rather pessimistic, could say no more than "nothing to report, not even a thunderstorm, blah!").
And so, after having got fresh bread, newspapers and having replenished the boat's water tanks, it's time to cast off!
Where to? Shhh, this is NEVER said, even the sailing ships used to declare only the destination they were heading towards (not the modern ships of course, those are the nautical equivalent to a double-decker bus running on a strict timetable), and we do the same: we go "south", perhaps towards Greece, we'll see.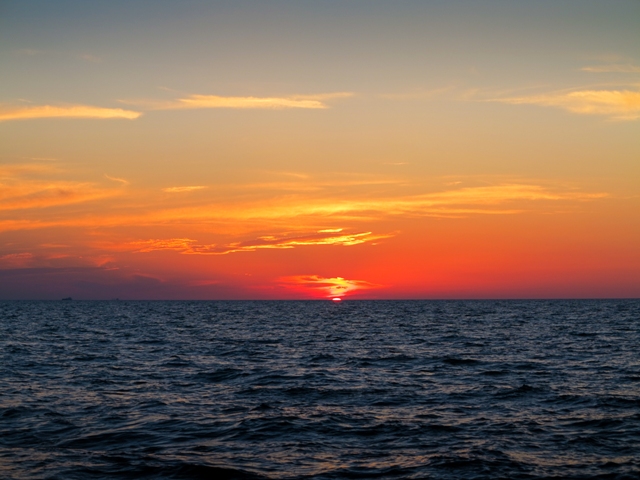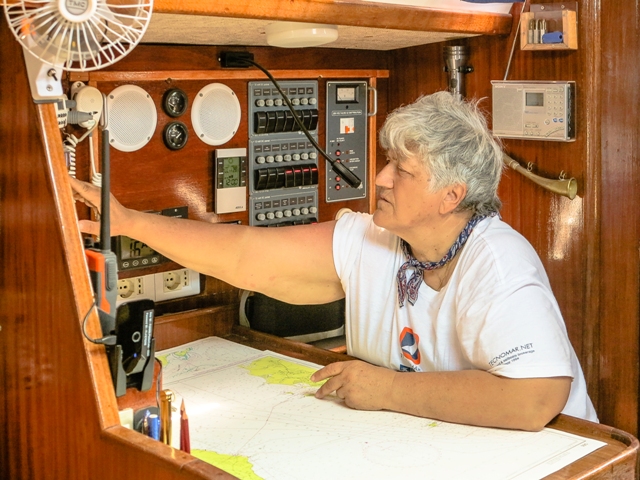 And so, here we are the next day, i.e. today, after a relatively quiet night apart from the fishing boats milling around, sailing in front of Brindisi where we will depart from the italian coastline heading towards...that thing that's at the other side of the Otranto channel! (there's also Albania, but I was rather thinking of Corf.... Shhhh shut up! Considering that the last family member who followed this route was torpedoed and sunk, better to be careful!).

ONBOARD JOURNAL NO. 2 BIS: IT'S A SMALL WORLD!
I forgot to mention it, but while we were moored in Vieste, a guy on the pontoon sees our belgian flag and asks in French "is your boat a Legénde 1040?". We say that yes, it is, and then he goes on "I had one myself, hull number 7" (ours is number 3, out of a total of 36, built from 1985 onwards).
We chat a bit, and we learn that the guy is travelling around on an OVNI very similar to our old Shaula3, and that he bought it in Arzal from the same reseller where we purchased ours, and in the same period as well; we might have met back then!
We exchange info on the possible places to visit in the northern Adriatic and we promise to meet again when we will be back and they will be with their boat in Venice, where they plan to spend the winter.
Later, we discovered that we worked for many years in the same company and we even worked on the same projects, in particular on the development of the GSM cellphone (yes, the devilish object that changed our lifestyle!). It's really a small world!