VARAZZE, CALVI, STINTINO, ALGHERO:
The time has finally come to leave the new Marina of Varazze, which hosted us during the last 6 months; as it often happens, we have to wait for a few days while the weather settles down.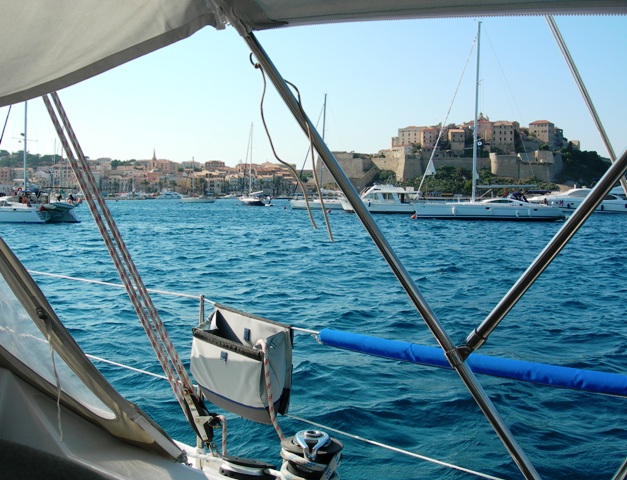 Due to the delayed departure, we decide to abandon the original plan to head towards Capraia island, and rather go straight towards Calvi, where we arrive after an uneventful passage; no miracles this year, and we do not find a place in port like it happened last year!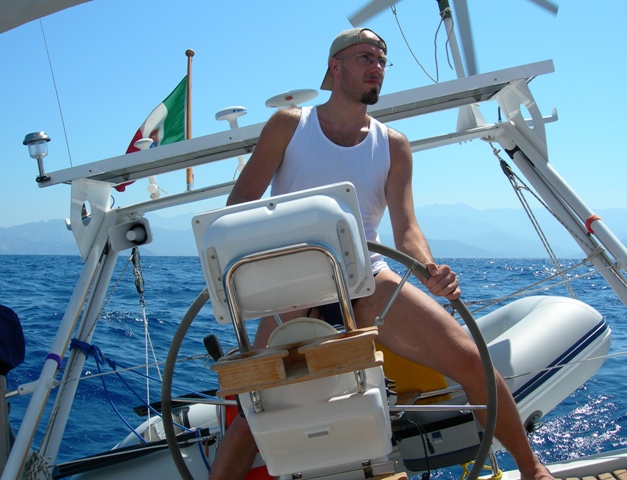 Off again, and for the first time we experiment sailing with the tender hanging from the davits: it's much better than trailing it, although the cabin-boy complains because it blocks access to the stern!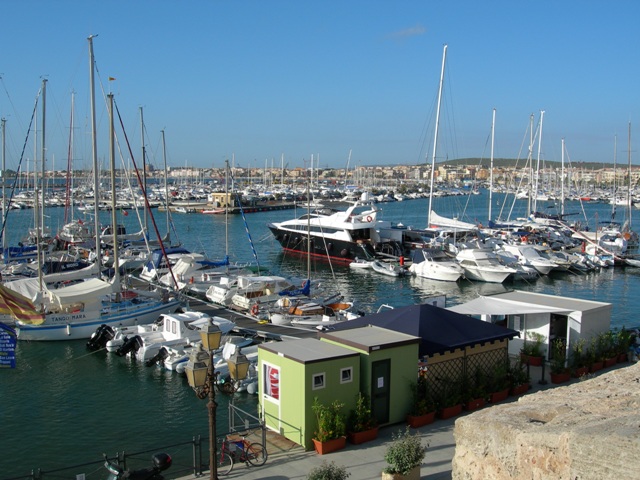 After two short nightly stopovers south of Ajaccio and then again near Stintino, due to forecasts of heavy winds we seek shelter in Alghero, which we had not visited in a long time.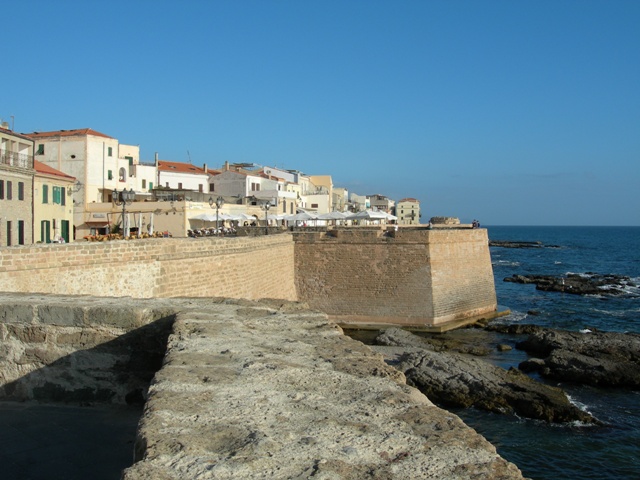 BOSA, TORRE GRANDE, CARLOFORTE, TEULADA:
After three days holed up in Alghero, at the first signs of an improvement we cast off aiming to reach the nearby Bosa Marina; we are not yet there, and a violent storm hits us!
Just when the storm abates, we manage to get a pot-line tangled in the rudder: there were a good 30 meters of line flat on the water, attached to several small buoys, a true trap!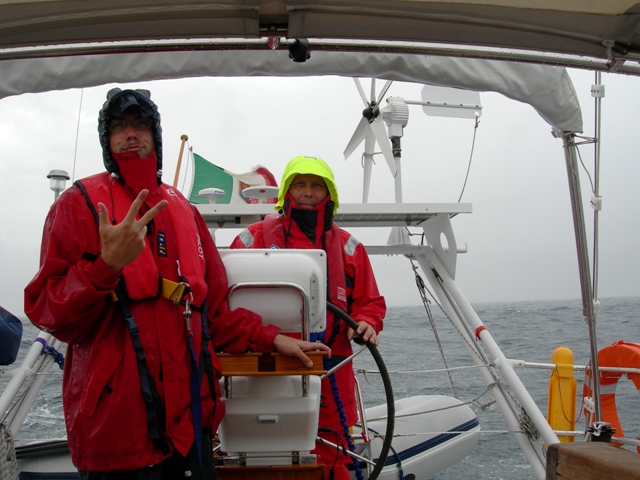 Bosa is a very popular bathing resort for the locals, thaks to the promontory giving some shelter to the beach, but not so much to the yachts moored to a short inner quay.
The cabin-boy is the only happy one, as he goes touring with some local friends; in the evening, they invite us all to a dinner which gives a new meaning to Sardinian hospitality!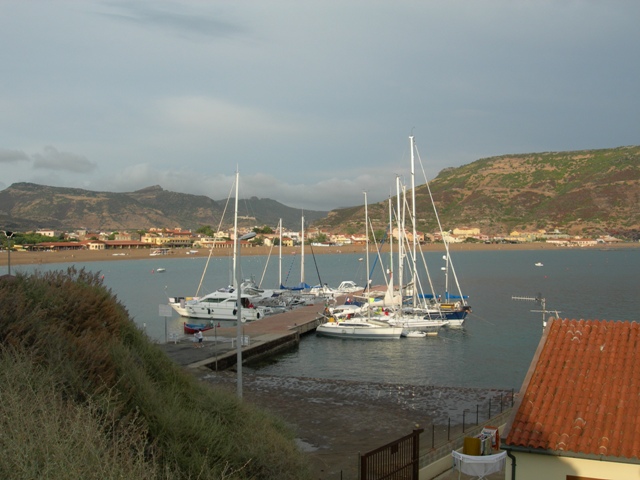 Another short hop to the next port, Torre Grande, inside the Oristano gulf: the marina is large, but really far from everything, although we discover that a bus-ride away there is a well-furnished shopping center where we replenish all our stock of local specialties!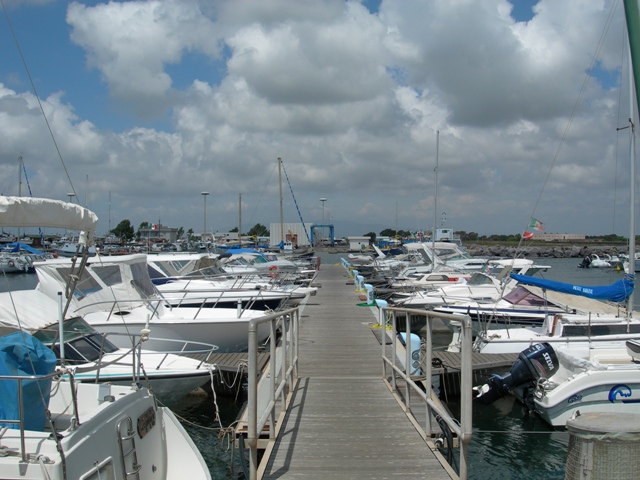 The mistral is blowing on and off since a month, and every time we reach a port we are forced to wait two or three days for an opportunity to jump to the next one; also this time, as soon as we can we ride the seas towards Carloforte, where we arrive at dawn in an half-empty marina.
The town is an ancient genoese colony, and still after several centuries it retains a typically Ligurian architecture, although people speaks a Ligurian dialect with a strong Sardinian accent!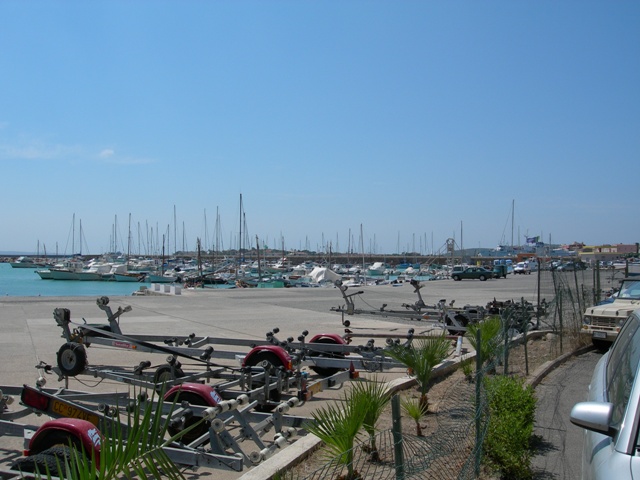 Againg blocked by the weather, we explore the area, while not disregarding any opportunity for local food!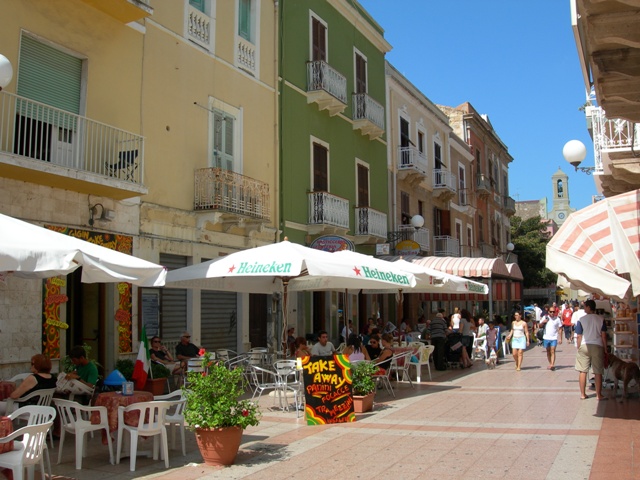 Another short jump, where again we are hit by a severe blow, and we stop again at Cape Teulada, where an old fishermen's port is being converted into a marina: the idea is to start from here our passage towards Sicily, which will take more than two days' sailing.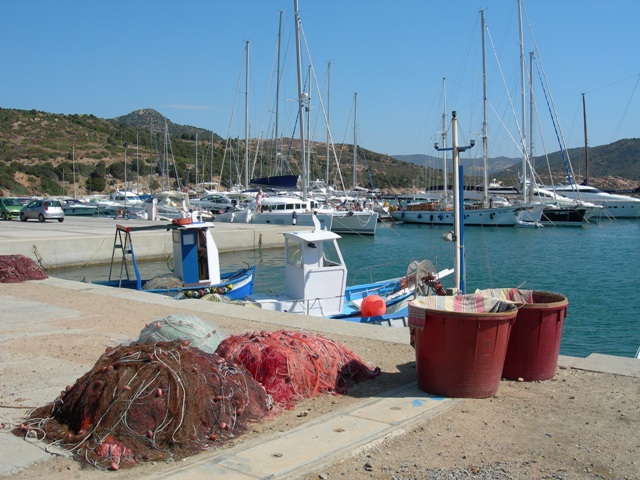 EGADI ISLANDS:
During the passage we are subjected to several, entirely different conditions: on the first night we run with almost 30 knots of north-westerly wind which then abates quite a lot, so we have an opportunity to try our brand new gennaker: beautiful, and it kicks like a mule!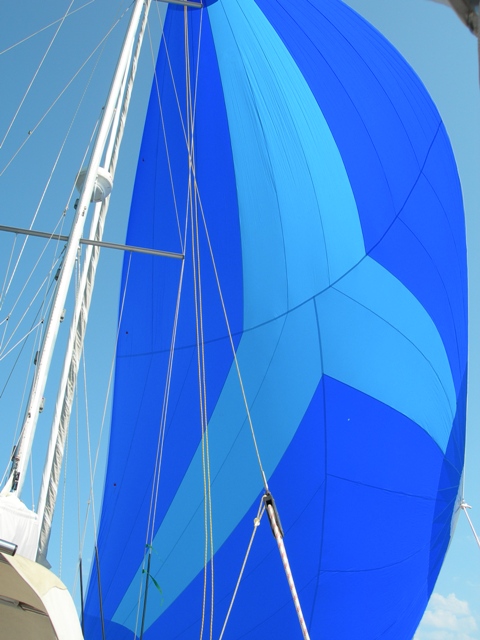 On the evening of the third day, we reach the island of Marettimo when it is already dark; we anchor near some other boats, but after few hours a dangerous swell forces us to leave and reach nearby Favignana; we rest a few hours in a nice, very small cove, and then move over to the town, with the idea to refuel and maybe spend the night there. Unfortunately, the port turns out to be chock-full with local charter boats, so we have to anchor right in the middle of the harbour, like a lot of other boats.
Furthermore, we are told that the fuel station has run out of diesel, which is expected to arrive tomorrow; we are almost empty, so the decision is taken for us to stay overnight.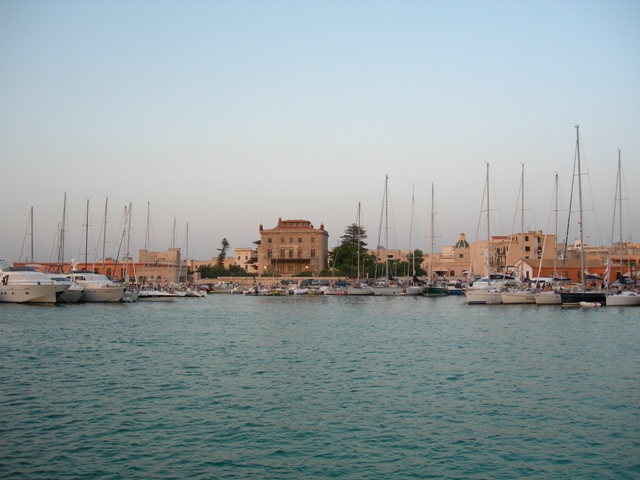 No diesel, but a lot of shops selling delicious bread and food, which are more than enough for us to forgive any other shortcoming!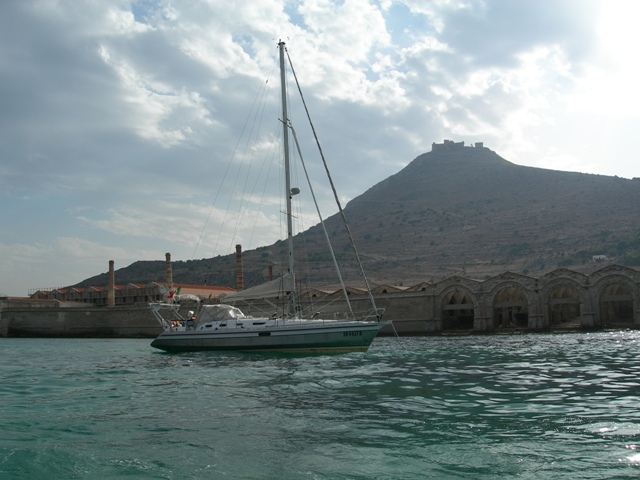 At night, there is even a fishermen's procession, with the regulatory statue of Virgin Mary being carried aboard a boat to the middle of the bay for a blessing of the whole fishing fleet.
MAZARA DEL VALLO:
Diesel oil has not arrived, so we leave in a flat calm and head towards Mazara del Vallo, on Sicily mainland, where we should also meet our old "Shaula Due" and her new owner.
Mazara is a major fishing center, but still there are a couple of pontoons catering for the local yachting community and the occasional visitor; unfortunately, the only quayside fuel station has only red-diesel which is reserved for the fishing boats! We later discovered that this is a frequent situation along the Sicilian coast.
We make a deal with the manager of the refueling station to bring us some jerrycans of diesel, and set off to visit the place!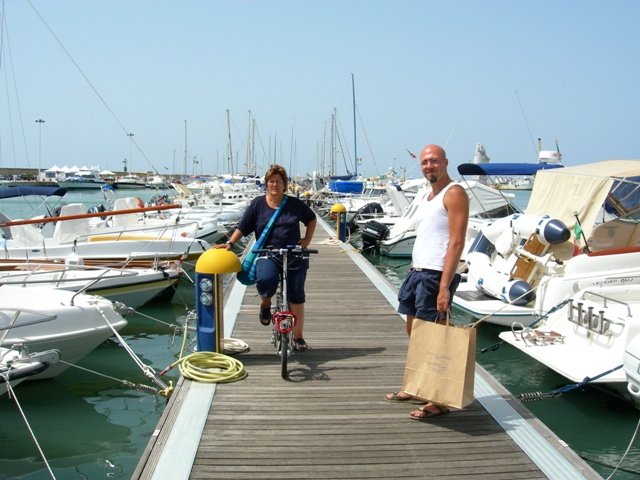 We do not manage to see Shaula due, we learn from her new owner that she is in a yard at the other end of the huge port, undertaking some major refurbishing work. By chance, we meet our nephew Raffaella ("Lalla") who just happens to be touring in the area.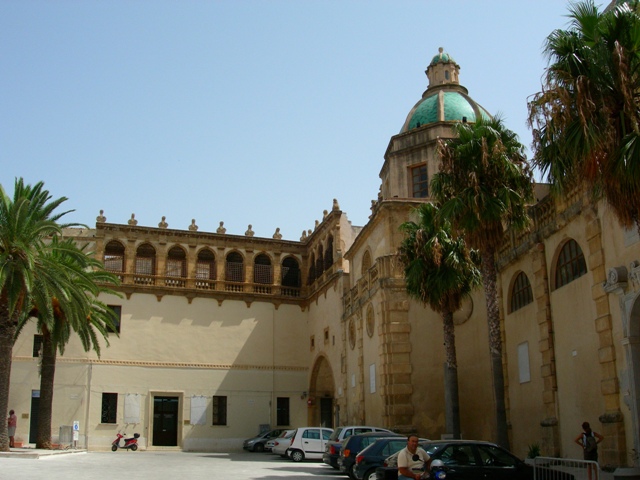 A trip - on a decrepit rental car - to the "Valley of Temples" near Agrigento is mandatory (although it is not quite nearby, in reality); pity that all temples turn out to be half-hidden by scaffolding due to ongoing reinforcement works (after all, they are 3 thousand years old!) but the area certainly deserves a visit nonetheless.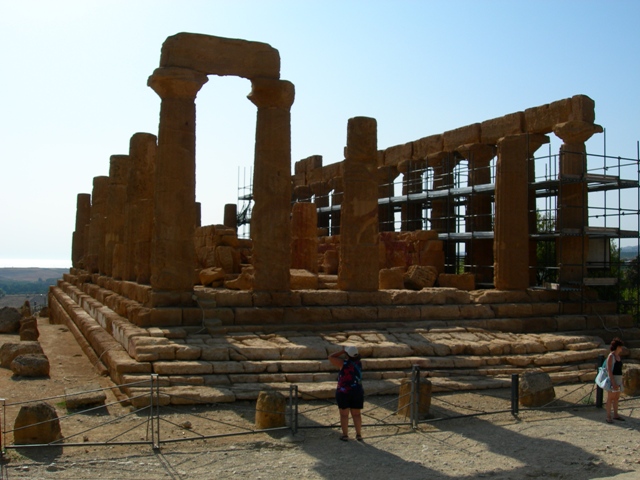 The location is highly suggestive, and one cannot avoid trying to figure out how it looked like at the times of the "Greater Greece", as the Greek colonies in Sicily used to be called.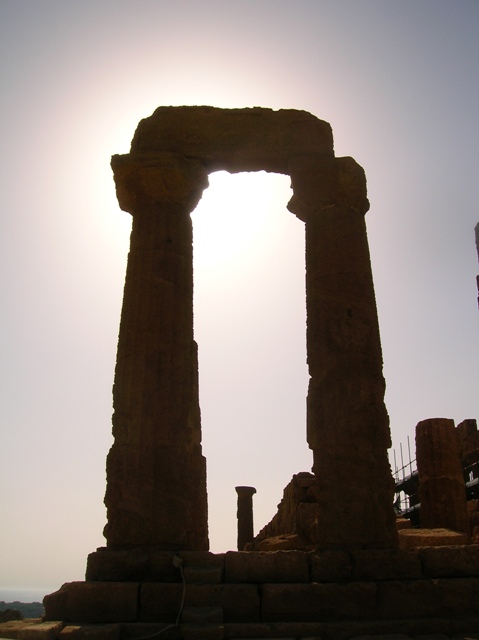 The fuel guy has not turned up, but we manage to get some large jerrycans on loan and use the rental car for a run to the not-so-near road fuel station; we can leave now!