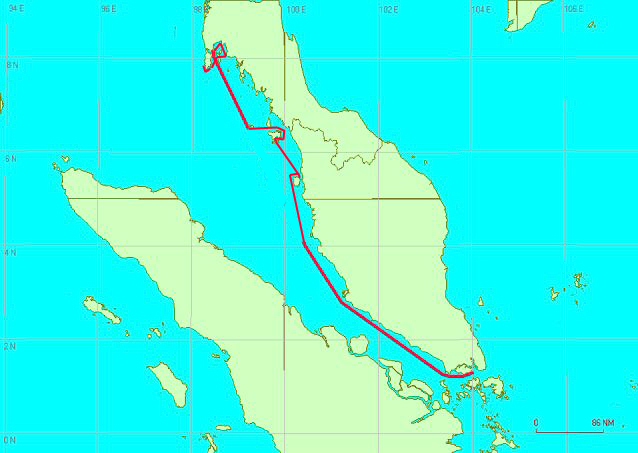 The next "official" stopover is in Phucket, which we will reach at the end of nearly one month of "free cruising" along the shores of Malaysia up to the island of Langkawi, to then enter Thailand (everybody is a bit nervous because several days will pass between our exit from Malaysia and our official entry into Thailand, which can only take place in Phucket).

04/12/2008

MALAYSIAN PIRATES?...

No doubt, Malaysian pirates were, and maybe still are, a reality, but the country is modern and wealthy: for the first time (apart from the obvious exception of Australia) we see tourist locations that are well kept and full of local tourists.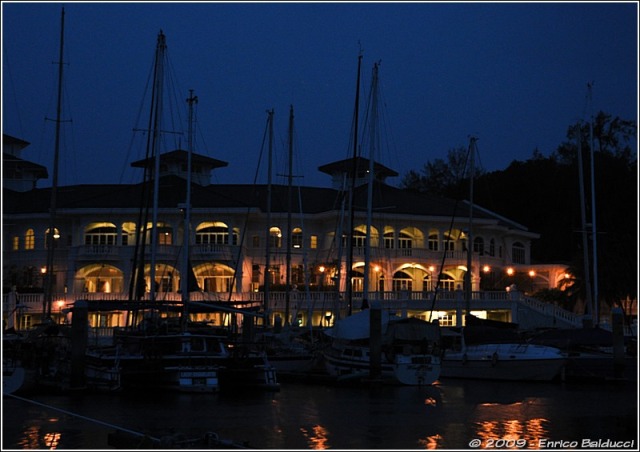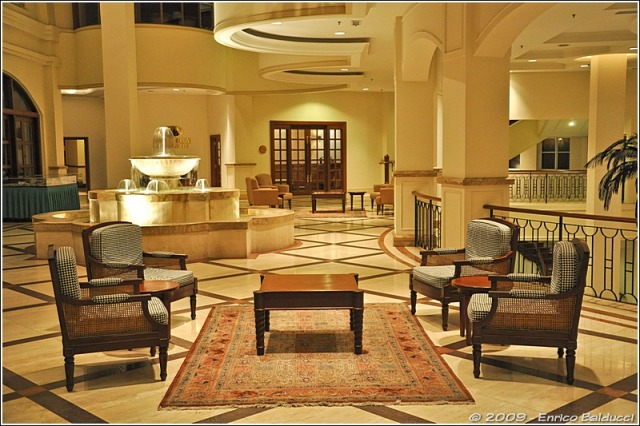 The romantic Port Dickson yacht club, in a perfect colonial style
In fact our first contact with the country when we went to Fort Dickson for the entry formalities, after having moored Shaula in the nearby nice, colonial-style marina, was rather disappointing, but we soon acknowledged the contrasts of this country, where the ultra-modern Kuala Lumpur, with a city centre which is dominated by the Petronas twin towers and rivals with Singapore, coexists with the colonial-era buildings of Melaka (the ancient capital) and Georgetown, both recently appointed "World Heritage" sites by UNESCO.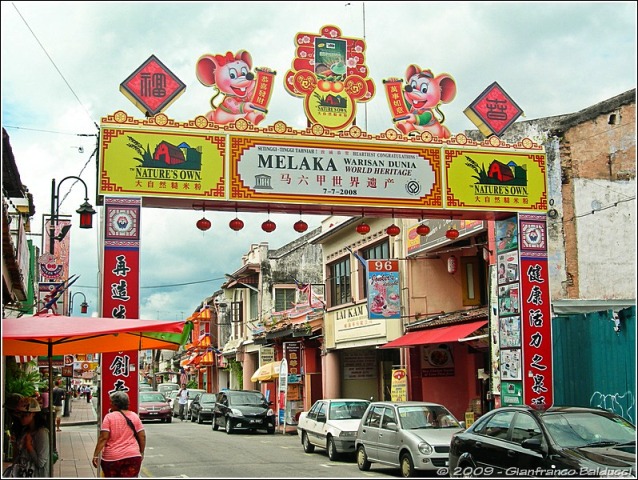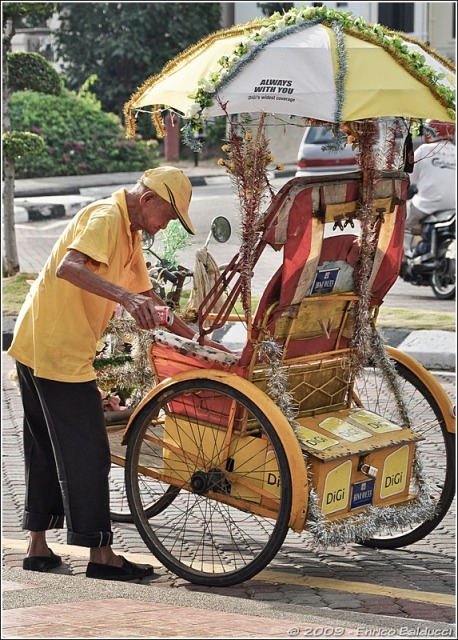 The main road across the historycal block of Melaka
Also in this Country there have been subsequent occupations by the Portuguese, then the Dutch and finally the British, each lasting about 150 years, and traces of the three cultures are still visible, together with the influence of the many Indian and Chinese inhabitants.

A cheerfully industrious, kind and discreet people, seldom oppressing the tourists with their offers and taking "no" as an answer (and THAT is seldom found elsewhere!).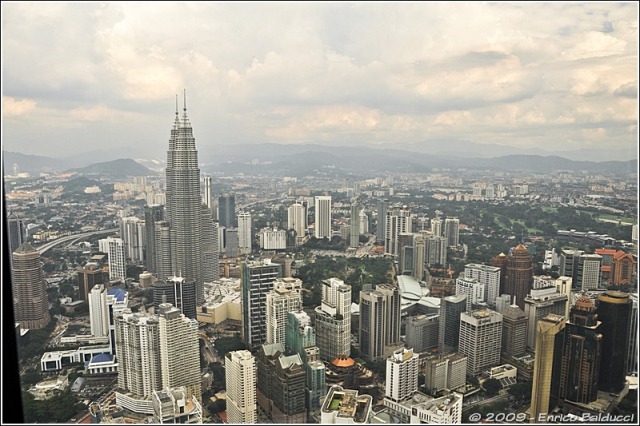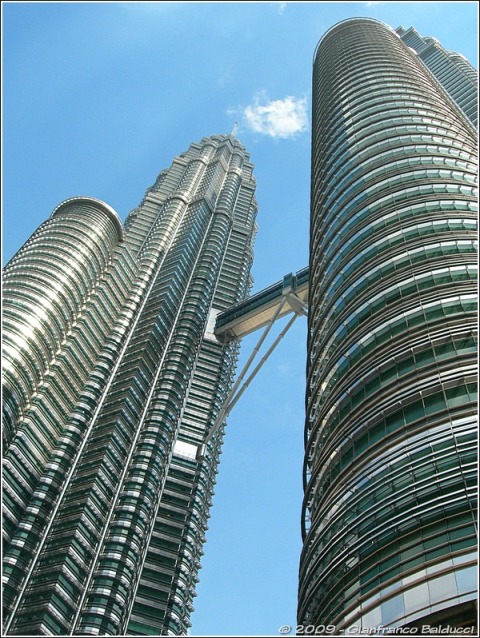 The Petronas towers loom over a skyscraper scenery in downtown Kuala Lumpur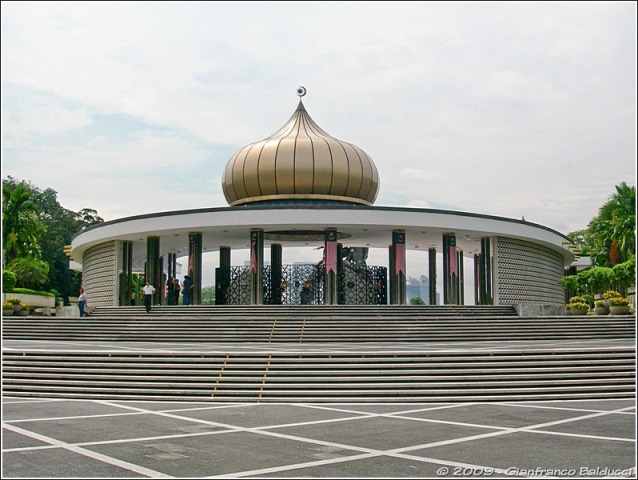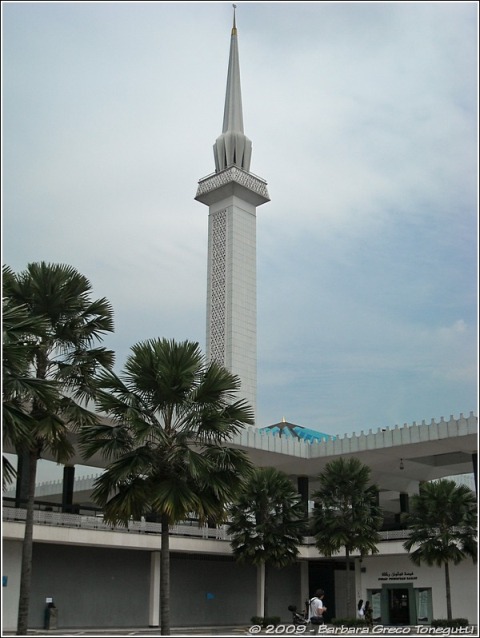 (left) Kuala Lumpur's "National Monument" and the "National Moscque" (right)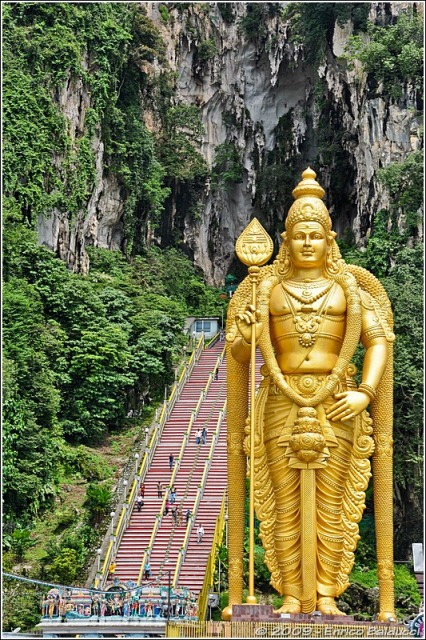 Just out of town, the Hindu temple at the Batu caves
Unfortunately, the sailing north along the Malaysian coast has not been very pleasant, with the usual mixture of tropical squalls, head-winds and short, choppy seas.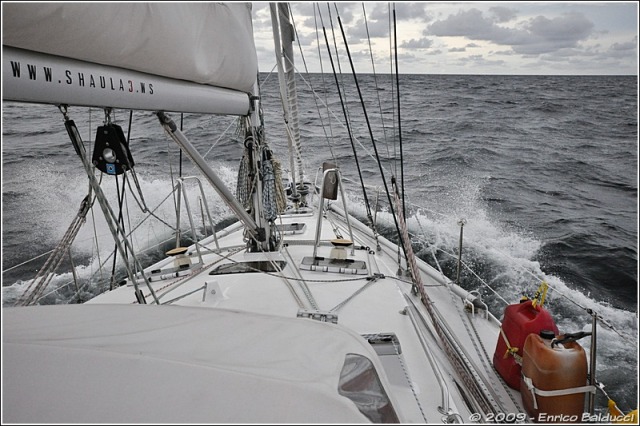 Shaula beats against the short swell of the Malacca straits
We had to make-do with only two stopovers, one in Port Dickson, from where we went to visit Melaka (Malacca) and Kuala Lumpur, and later Georgetown.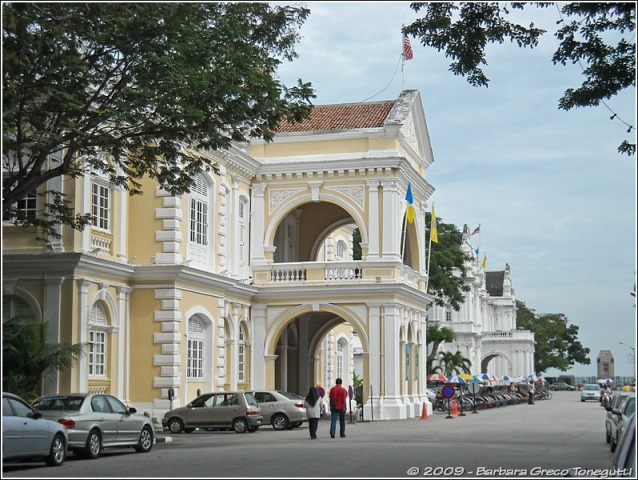 The Georgetown city hall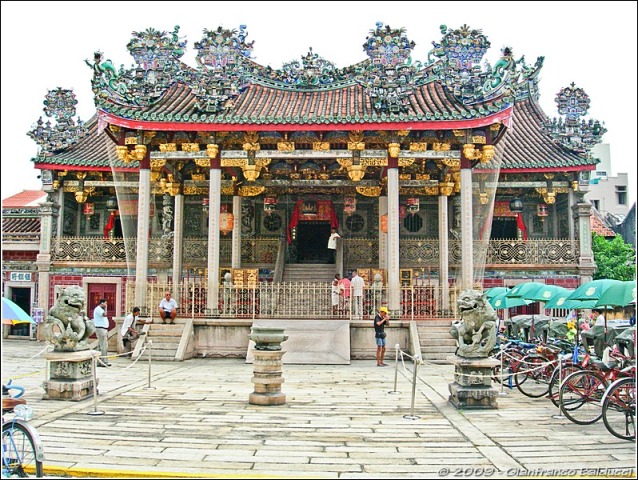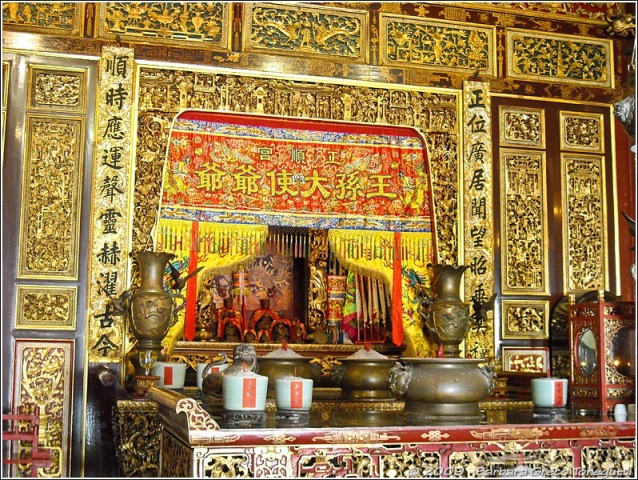 The Khoo Kongsi (Khoo clanhouse) in Georgetown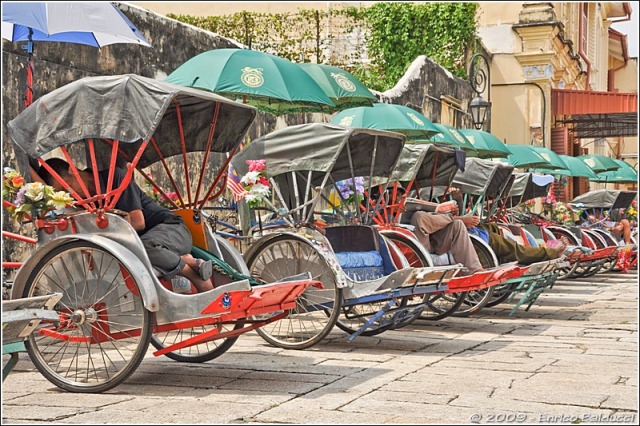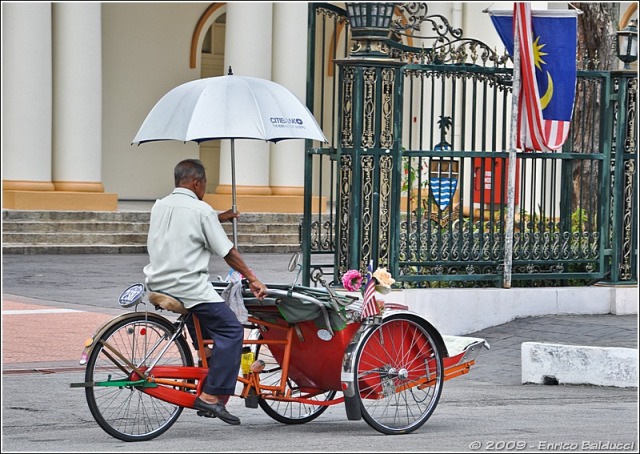 Rickshaws are a common sight in this part of the world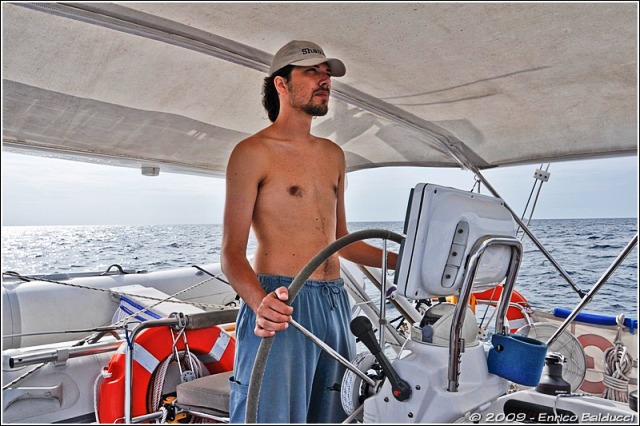 It wouldn't be actually needed, but Enrico enjoys hand-steering the boat
A radical change in Langkawi: change of landscape, with complex, dramatic sceneries, little islands, plenty of anchorages and navigable rivers. Change in the weather, with long periods of very light rain and spells of burning sunshine. Change in the shopping facilities, because the place is a huge duty-free for the locals: if you need a camera, or chocolate, or cheap liquors, there is plenty of choice, but if you need bread...

Change also in the visible percentage of Malay people and also in the percentage of women dressed according to Muslim practices, although this is mostly limited to a head scarf while tight jeans and a t-shirt worn over a long-sleeved black sweater are almost standard. Women do not seem limited in any way, they do drive cars and ride mopeds, they walk in the streets and do work, also in jobs requiring contact with other people. In general, it looks like a fairly relaxed interpretation of Islam.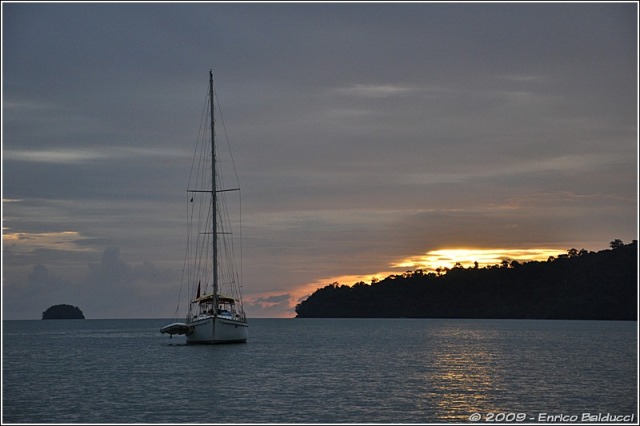 Sunset in Pulau Dajang Bunting, a small island near Langkawi
A couple of days ago, we went with a local boat along a navigable river where we saw sea-eagles, bat-filled caves and a strange-looking crab, called "horseshoe crab" whose upper shell reminds closely that of fossils we have seen so often in museums.
Pity that the many rivers and the strong currents make the waters rather murky and unattractive for diving.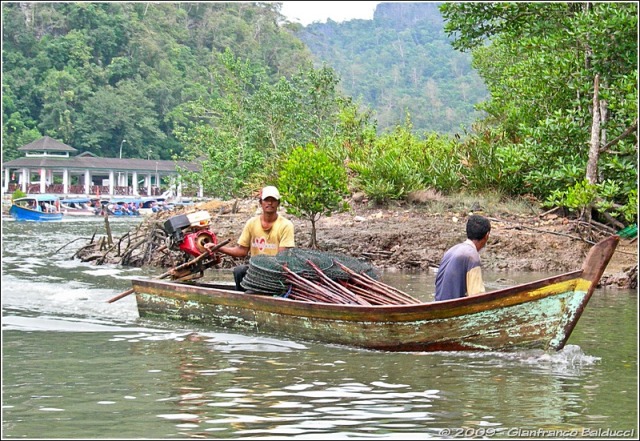 These boats, equipped with an automotive engine and a straight prop-shaft are very common in this area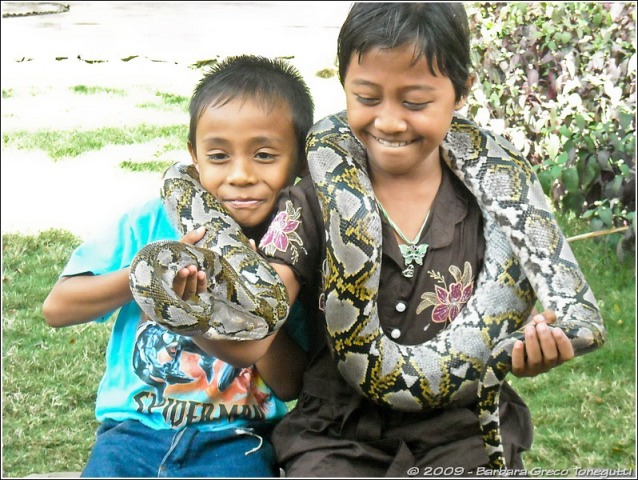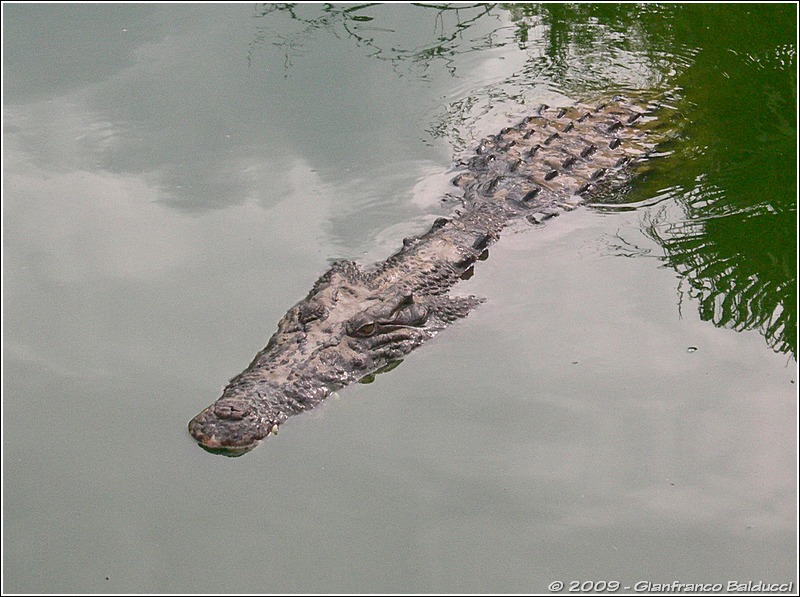 Now we are heading towards Thailand and its hundreds of spectacular anchorages.
Before heading towards Thailand, we decided to spend a night at anchor in the same river we had visited few days before from land; several yachts come in this idyllic, tranquil anchorage, and if you want you may go by dinghy to a nearby village on stilts, where you can have dinner.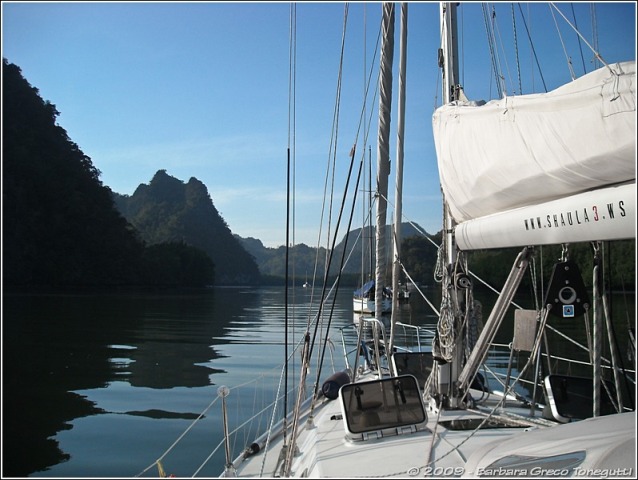 The first leg towards Thailand was very short, we just went to nearby Ko Lipe, a tiny island with a long, sandy beach fronted by restaurants and bars. An holyday location to be sure, but it was a pleasant stop in good company with the crews of some other Rally yachts.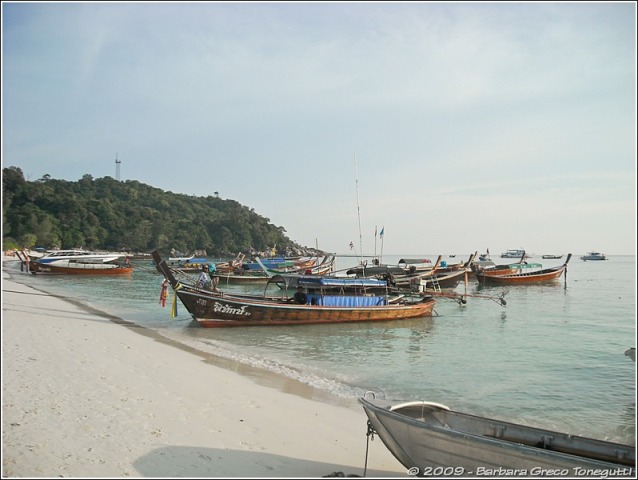 The beach of Ko Lipe, crowded with very noisy "longtails"


26/12/2008

SIAM!...

Right, who knows why they changed the Country's name, back in '45, renaming it Thailand: for once, the old name was not a bogus name imposed by western colonisers, as Siam has always managed to remain independent, thanks to the wise policy of alliances played by its Kings.

Strange folks, the Siamese Kings: absolute monarchs until the mid '30's, they are nonetheless loved by the population (and it really seems a genuine affection, also considering than nowadays the Kings have no power), and the present dynasty seems to have always been keen on arts and culture, although the current octuagenarian King Bhumipol the Great (!...) is also quick at spending out of his own purse to finance development projects around the Country and likes being portrayed like a common person (sitting on the throne with a photo-camera hanging from his neck?...).

Our first impressions of the Country were not very positive, also because we had been a bit spoilt by Malaysia and we were expecting something similar: on the contrary, we found breathtakingly spectacular sceneries spoiled by over-crowding, ugly-looking buildings, lots of shops all selling the same useless stuff, over-insisting sellers and noise.

In a class on their own, the "longtails": very noisy launches, with a huge engine perched on the stern and directly driving a long prop-shaft: difficult to handle, but suitable for very shallow waters, the problem is that many ARE NOT SILENCED and their noise is like that of a Formula-1 car, spoiling the quiet of all anchorages.

The towns were also markedly less well-kept than we expected, even the capital Bangkok is rather depressing, but the historical buildings, the temples and palaces are absolutely extraordinary, with their complex shapes and thousand colours.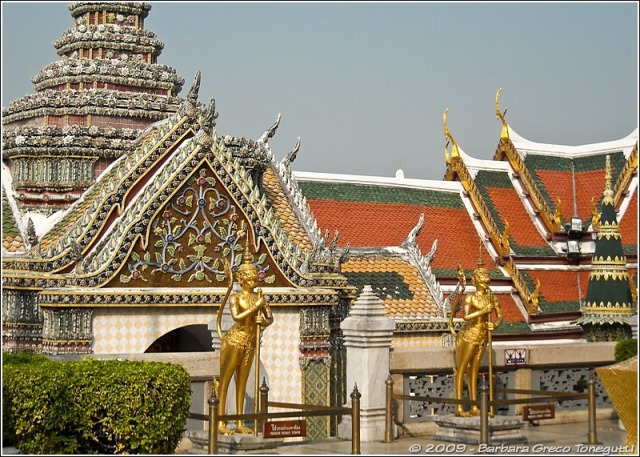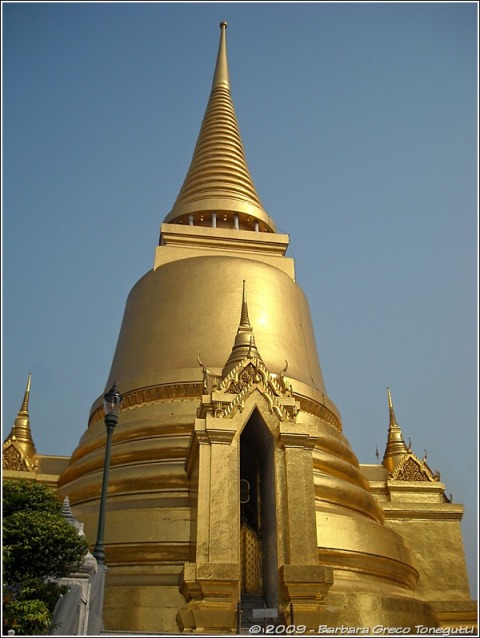 The extraordinary wiews of Bangkok royal Palaces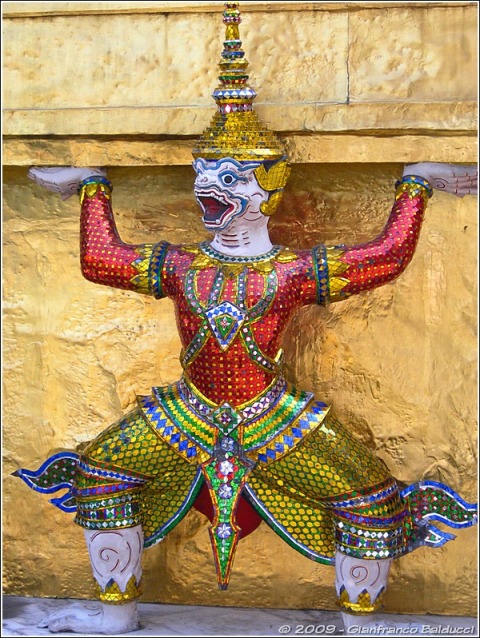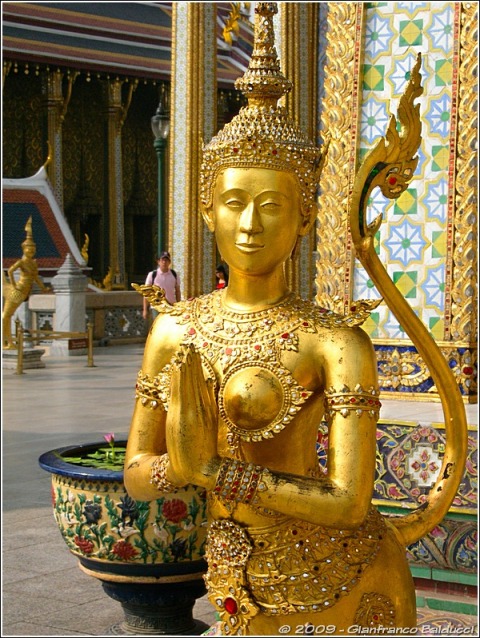 And the people: there's the insisting seller that does not take "no, thank-you" for an answer, but there is also the fisherman approaching on his canoe to offer freshly caught fish and crabs and who keeps smiling also if you do not buy anything, and the tourist-boat operators that smile and chat at every opportunity when they anchor nearby.

And the views, the rocky pinnacles jutting out of the water in numbers, and the islands pierced by caves leading to secret internal lakes (called "hongs", houses), and the funny "horseshoe" crabs that look like they came out of a book about fossils.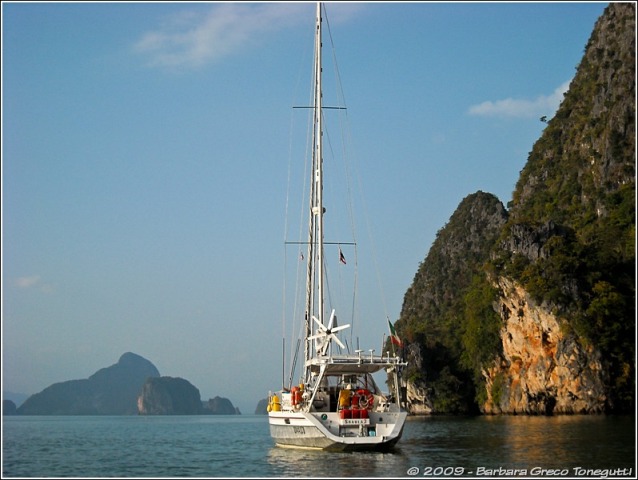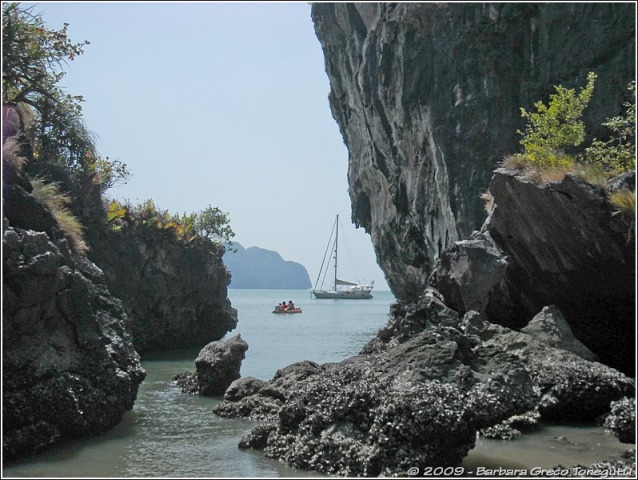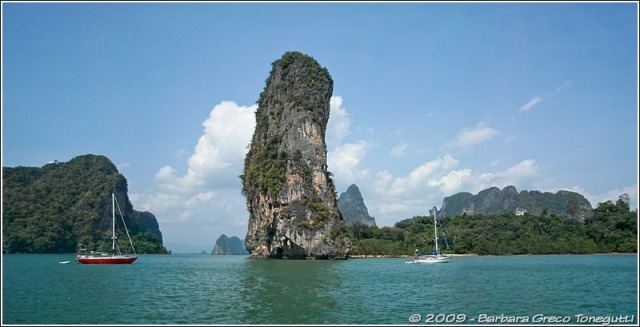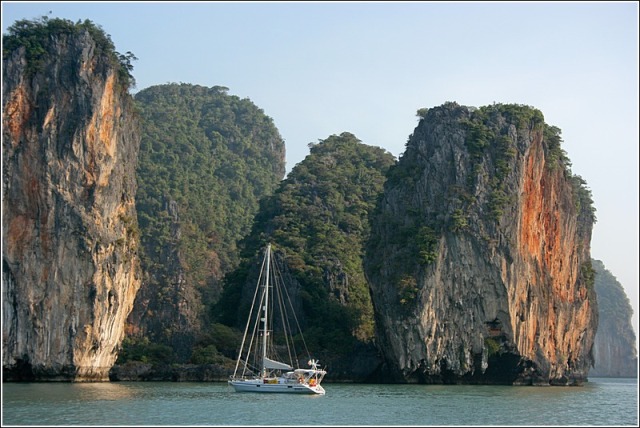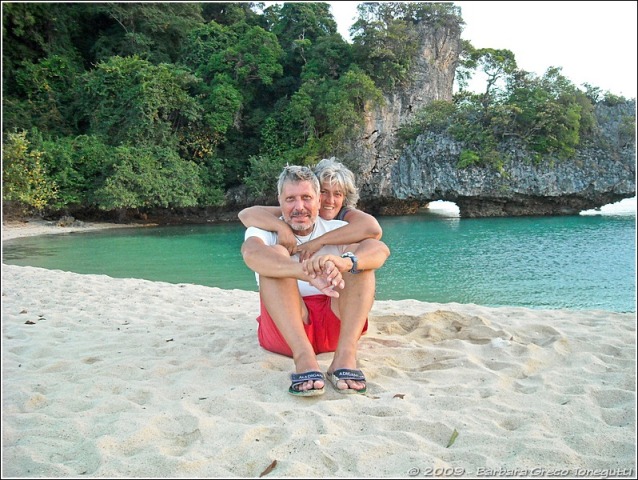 And there's also the cart-vendor selling fried locusts, cockroaches and worms, which literally horrified Baby...


30/12/2008

THAILAND...

We are sailing, in an abnormally hot and wind-less day, to turn around the island of Phuket and reach the western coast, with two objectives: first, spend new year's eve watching the fireworks from the beach of Patong (a sort of asian version of Jesolo Lido, overcrowded by western tourists) and, once recovered, sail towards Sri Lanka.
It's a 1100 miles passage which should take about 8 or 9 days.

The island of Phuket has probably been the least interesting part of Thailand, but from here we have been able to go to Bangkok (and some more adventurous crews have gone even farther to places like Cheng Mai, in the Country's far north) and later to sail around the Phang Nga bay, among spectacular sceneries, tens of rock pillars jutting out of the water, fishes, eagles, huge bats, and the unavoidable "longtails" carrying tourists to every place!...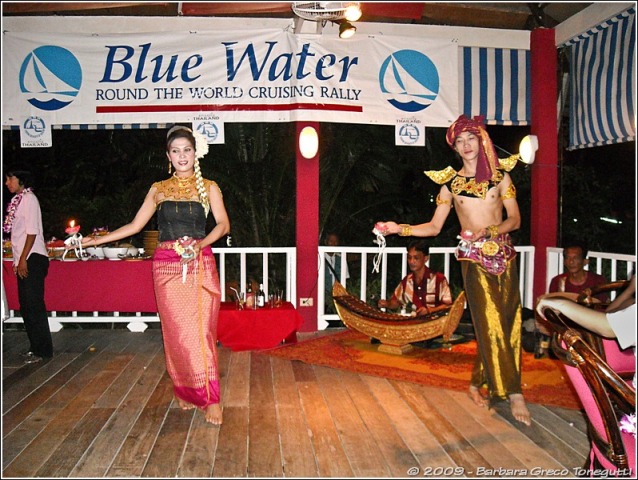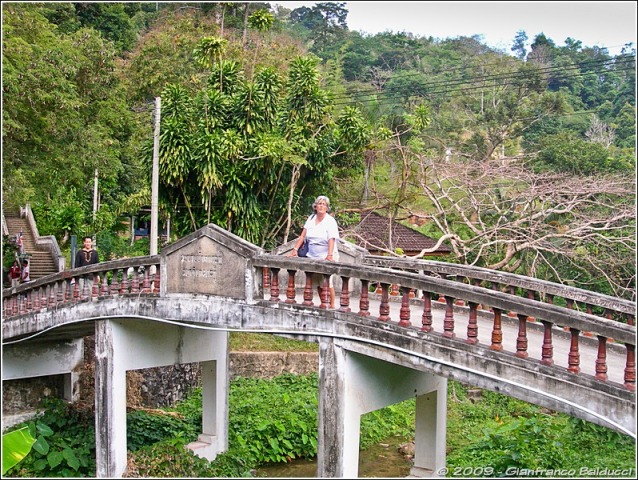 (left) a traditional dance, care of the Blue Water Rally and (right) sightseeing in Phucket
In fact, crowding is the worst aspect of these places, however nice and interesting; not surprisingly, this is where we have seen the highest number of western people who came here to settle, very often middle-aged europeans who found a local woman and never went away: it's the myth of the Polynesian vahinč, which becomes real in an entirely different place!...

In the end, we have re-evaluated our first impression of the Country which initially we did not like, while in fact it's just Phuket which is not the best place.


10/01/2009

FIREWORKS...

One of the suggestions we got for the New Year's Eve in Phuket was to anchor in Patong harbour and watch the fireworks: do not go ashore, though, it's dangerous, everybody said.

Said, done! From Yacht Haven Marina we sailed all the way around the southern end of Phuket to reach Patong that woud have been only 16 miles away around the !impassable northern end (there is a low road bridge connecting Phuket with the mainland there).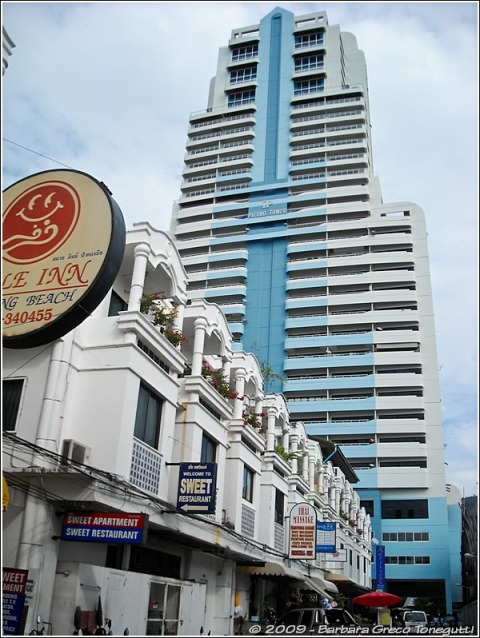 Patong is Phucket's main tourist destination
Once in Patong, we discovered that the wind had shifted to the north-west, to which the harbour is not sheltered, making the anchorage very rolly. Only few of the Rally yachts had remained there instead of seeking shelter elsewhere, and there was no plan to do anything in company during the night.

We settled for a cosy dinner in the cockpit, while watching the show: we expected it to be a coordinated, well choreographed show, maybe half an hour and that's it, but it was nothing of the sort!

In fact there was no coordination at all: everybody, from various spots on the beach, presumably hotels and restaurants, was firing his own stuff, continuously for 2 or 3 hours.
At the same time, from the town main square tiny hot-air balloons were launched quite literally by the thousands, filling the sky with their lights: something we never saw before, and very spectacular.

Initially, we were a bit disappointed by what seemed a rather chaotic, low-profile show, but we were gradually fascinated by the view of the whole bay dotted by fireworks, with the sky filled by star-like lights, and then there was the grand finale, in the last minutes before midnight!

It's been an unusual show, and we liked it very much, despite the discomfort caused by the swell.

We were planning to leave the next day towards Sri Lanka, but the swell had abated, and in the end lazyness prevailed...